Out of the box messages by Oracle
We understand if you are not fully happy with the 'Out of the box' approval messages of Oracle Cloud. But why don't you do something about that? See what Profource can do for you! Profource provides the service to build 'Customised' approval messages fully adjusted to your demands and wishes and fully supported by Oracle. Profource, the Oracle Cloud Specialist in the BeNeLux, offer you THE approval Messages that will guarantee to raise your user acceptance within your organization.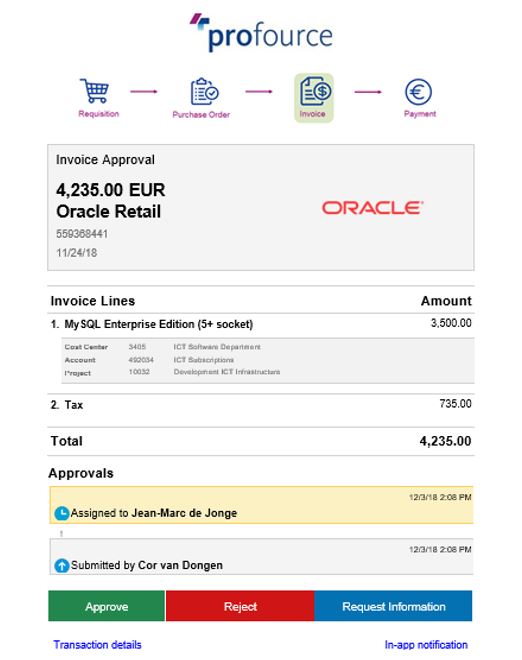 Why Profource?
Not only is Profource the Oracle and NetSuite specialist in the BeNeLux, but we also distinguish ourselves as true experts in the fields of finance, HR, procurement and supply chain management, business intelligence [BI], project control, reporting and administration.  Our understanding of both process and ICT is unique in the industry and forms the basis of all our services: from ERP Consulting and Business Consulting to Application Management and Service Desk. We provide tailor-made ERP solutions for multinationals and start-ups alike, employing Oracle Applications in the larger or more complex organizations, and the flexible, scalable NetSuite in the more straightforward ones.
What is our proposal?
Within half a day our Oracle Cloud expert determines the most suitable lay out design for you, fully adapted to your corporate identity and based on our robust Profource Best Practice templates. Full rollout is realized within 2 days including:
Documentation
Implementation in test
Implementation in production
Meer weten?
Maakt deze case u nieuwsgierig naar meer informatie? Laat dan uw vraag achter op onze contactpagina. Of bel naar 088 - 77 636 00. We zien uit naar een kennismaking.