Oracle Cloud ERP release 20D Related Value Sets reviewed
Oracle recently introduced the related value sets as a new functionality 'General Ledger Related Value Sets' in the Oracle Cloud ERP release 20D. According to Oracle documentation the functionality provides a new way to define dependencies between two segments in a chart of accounts to ensure only valid combinations are used during data entry. The functionality is described as an addition to the well-known Cross-Validation Rules (CVR) and Oracle's advice is 'if you use Cross-Validation Rules to validate values for a segment based on another segment, you may consider converting them to 'Related Value Set' rules to improve journal processing performance'. We took that advice to heart and investigated this feature.
What is a related value set?
A related value set is an Independent type value set whose values are related to another Independent type value set. This feature can be used to automatically display a list of related values in a segment value choice list, based on what value was selected in a preceding segment in your chart of accounts. This logic is the same as used for minor and major Asset Category setup in Fixed Assets.
For example, if you have Account and Cost Center segments in your chart of accounts, and some expense related Accounts like Marketing Cost are only allowed to be used within certain Cost Centers, like Sales, this relation can be set up. Other Cost Center values – for which a relation is not set up – will not be shown in the list of values the end user can choose from. End result is that a very strict relationship between segments and their values is enforced.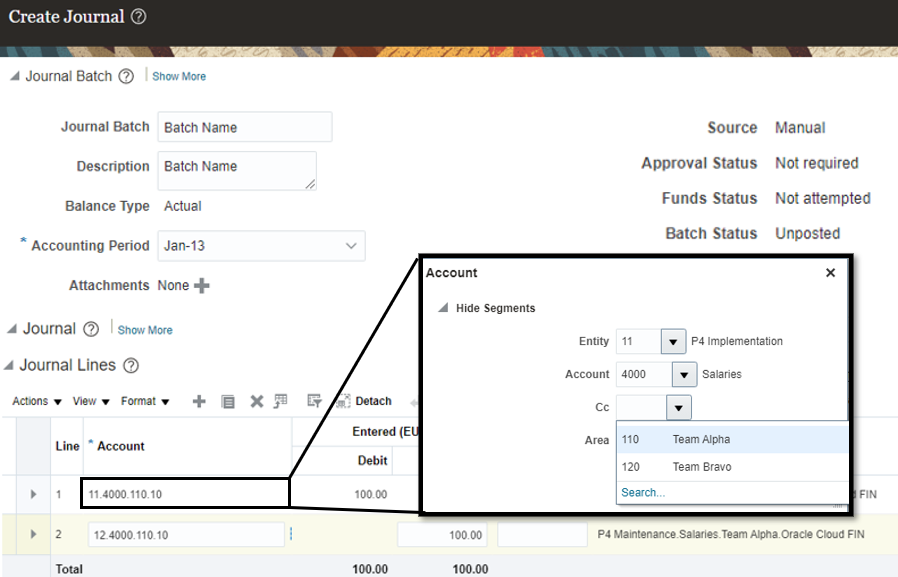 Only values that are defined in Values Set Relationship are available. The Cost Center value set contains the values 100, 110, 120, 130 and 999. Only 110 and 120 are shown.
When to use it?
Both customers already working with Oracle Cloud ERP and those at the beginning of an implementation can use it. Those working with Oracle Cloud ERP can think of moving away from CVRs and replace them by Related Value Sets. If you do so, do not forget to clean up any existing Account Combinations in conflict with the newly created setup. This is not an automated process. Companies in the middle of implementing Oracle Cloud ERP can start from scratch and think about which relationships can be best enforced with Related Value Sets or with CVRs.
Good to know, it is not a one-time decision. Disabling the functionality is easy if not required any longer.
What setup is required?
The following steps are required to use this feature.
Enable the opt-in
Define the relationship via Manage Chart of Accounts Value Sets, tab Related Value Sets for the Value Sets
Manually create or upload via a .csv the related Value Set Values
Enable the relationship
Deploy Chart of Accounts
A new deployment of the Chart of Accounts is only required after the creation of new relationships between independent value sets. It not necessary after adjusting the value sets of an existing relationship.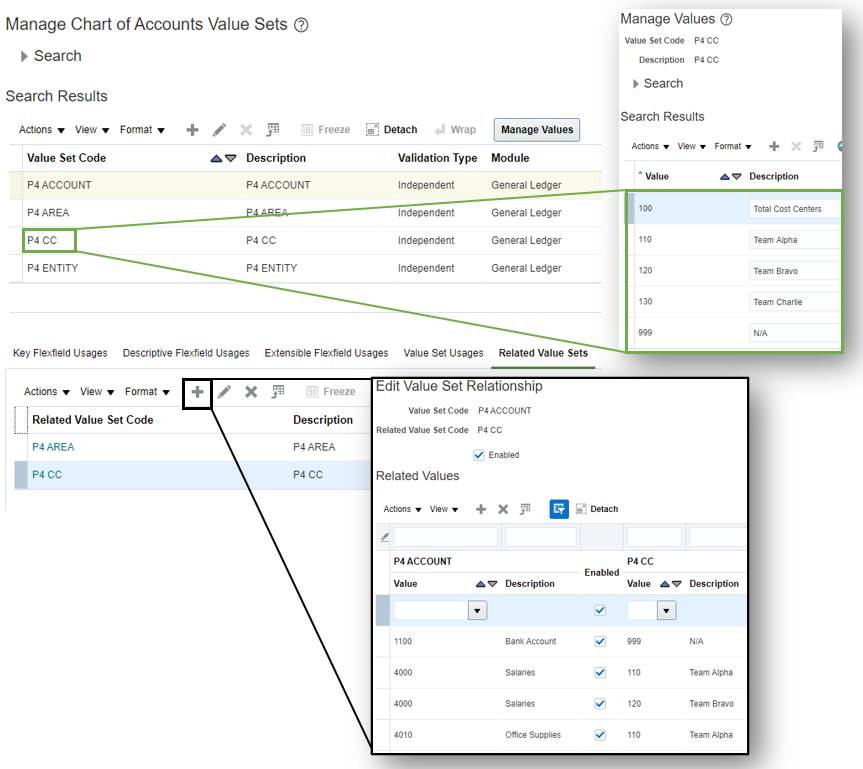 Create relationship and upload values manually

Create relationship and upload values via CSV
Pros and cons
Below an overview of the pros and cons of the feature we have written down while investigating the feature.
+ Prevents incorrect data entry upfront instead of validating afterwards, which helps the user when creating transactions
+ Less dependency on Cross-Validation Rules
+ Realize an improved performance during data entry, because if used instead CVR, less CVR need to be "scanned" which requires processing power
+ Easy to implement for existing customers
+ Welcome new feature to avoid complex CVRs.
-/- Initial setup via screen or pipe delimited files is time consuming
-/- Impossibility to use parent values or ranges potentially weighs heavy on maintenance department because every new segment value has to be set up in related segment value set-up as well
-/- Cross validation rules have the possibilities to add error messages to invalid combinations
Something to take into account is that when activating the Related Value Sets, all undefined relationships between segment values are no longer valid and will not be shown in the user interface! Be sure to wait until all values have been mapped, before enabling the relationship between the value sets.
Conclusion review General Ledger Related Value Sets
Use it. However be cautious to what extent you use it. For related segments with a stable number of segment values, as to how many are added during a given period, it is almost a must use.
From an end user perspective, the feature adds a lot of value because incorrect combinations are prevented. All will appreciate this. From an admin perspective, the feature might potentially require more maintenance if used for segments which are subject to a lot of movements.
Overall, our findings are very positive. If the possibility to use parents and ranges, like we are used to in CVRs, is incorporated in future releases, the functionality will become even better. Something we have logged an idea for on Oracle Community.
Learn more?
We are keen to make giant strides with you in optimising the service of your choosing, and look forward to meeting you to discuss your needs.