An investigation of this new Oracle Cloud functionality
Oracle introduced the 'General Ledger Period Closure When Open Subledger Periods Exist' as a new functionality in the Oracle Cloud ERP release 20A and enhanced it in releases 20D and 21A. According to Oracle documentation, the functionality 'prevents the closure of a General Ledger accounting period if the accounting period for any of the corresponding subledgers is still open or if incomplete accounting entries or transactions exist for the period. A functionality according to our experience from working with many different customers using Oracle Cloud ERP and Oracle eBS for that matter,  will be very much appreciated. Because who wouldn't want to ensure an effective period close process by validating all transactions are complete, and therefore not being held up during the close?
In this review of the new Oracle Cloud ERP functionality, we advice to enable this option. We will explain why and we also highlight some constraints that we advice you to consider.
What the feature does
Once the option is enabled it enforces the enhanced period close process on a primary ledger. When you enable this feature, the period close process prevents the corresponding General Ledger accounting period from being closed if any of the following exceptions exist:
Subledger accounting periods are not closed
Unprocessed and untransferred subledger transactions
Intercompany exceptions
Pending transactions in the General Ledger interface
Unposted transactions in General Ledger
Note: this functionality does not apply to any secondary ledgers, even if those have subledgers assigned to them.
When closing General Ledger with these exceptions you will either get a clear period status error message in your General Ledger Period Close screen or a transaction exception warning as the log file output of the Close General Ledger Period process.
With this popup you can easily notice which Subledgers are still open before you can close General Ledger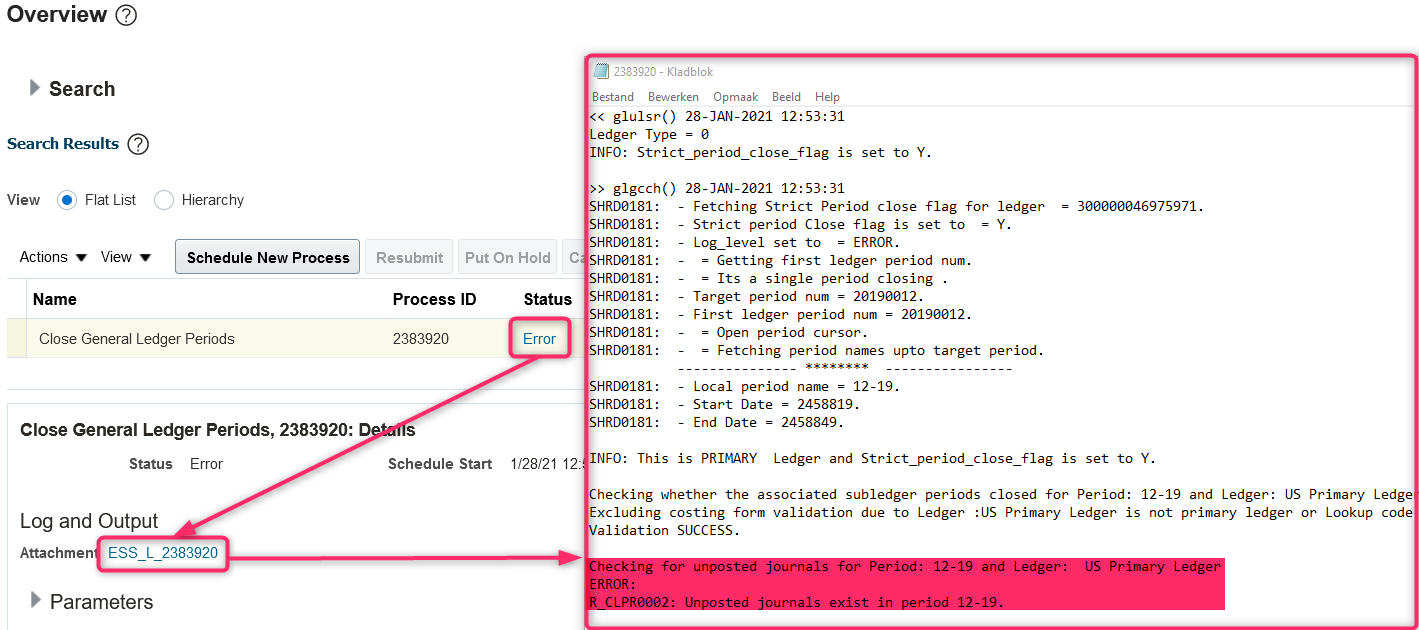 The log file gives a clear error message that there are unposted or unprocessed transactions.
If for any reason you would like to exclude some modules from this logic because it might otherwise jeopardize your month end close process you can exclude one or more of the following subledgers so the General Ledger period close process skips any exceptions encountered within the context of the excluded subledgers:
Payables
Receivables
Revenue Management
Project Foundation
Cost Management (20D)
Note: by default the Fixed Assets subledger is excluded from the above General Ledger period close process. The option to incorporate it  is included in release 21A.
Clear benefits and potential constraints
+ More accurate financial reporting since all exceptions are resolved and accounted before closure
+ Effective procedure bringing you in control of your month end close process
+ Comply with general business practice not to re-open periods, unless there are material changes
+ Comply with possible audit requirements
+ Follow Oracle's intended month end close process
+ Set-up of this feature can be reversed at any moment
+ If the Fixed Assent Calendar is equal to the General Ledger Accounting Calendar the Subledger can be included, meaning that Assets periods have to be closed before General Ledger periods can be closed.
+ Clear error message when General Ledger Close period is initiated and Subledgers are still open
+ Subledger(s) can be excluded when for business process purposes closure of this module should not block General Ledger closure
-/- Exclusion of Subledger(s) is effective for all primary ledgers, no differentiation per primary ledger is possible
-/- Feature only available for primary ledgers
In our opinion the feature will result in a more strict closure process and therefore is an opportunity to meet month end close deadlines and ensure completeness of the financial numbers per month end. However it depends on the view of the accounting department whether or not these harsh enforced possibilities to close the General Ledger yes or no, are viewed as an opportunity to improve or as a restriction to have a "flexible" month end process.
What setup is required?
The following steps are required to use this feature. Setup effort is minimal, to say the least.
Set the ledger scope for the Specify Ledger Options task and then select the task
On the Specify Ledger Options page, section Period Close – select the Prevent General Ledger Period Closure When Open Subledger Periods Exist option

The feature is now ready to be used and validations are done when closing General Ledger. If business processes require subledger(s) to be excluded from the validations to close General Ledger the following steps need to be performed:
Select the Manage General Ledger Lookup Values task
Search for ORA_GL_INCLD_STRICT_PRD_CLOSE in the Lookup Type
Click in the Enable field to deselect the Subledgers to be excluded.

Conclusion
There are too many benefits not to use it. From our user and consulting experience we have seen issues around the month end close, resulting in re-opening General Ledger and (partially) re-doing the financial reporting & consolidation. With this feature you can prevent these issues and only have to re-open for material General Ledger journal entries. Thus, the review of the new functionality in the Oracle Cloud ERP release 20A is positive.
Meer weten?
If after reading this case you are interested in receiving further information, please post your question on our contact page, or call us on +31 (0)88 77 636 00, directly. We look forward to hearing from you.