Is your company set for the newest release?
Is your company set for the newest release?
A new year, time for the NetSuite 2021.1 release! Starting this month and continuing through April, the newest NetSuite ERP software update will be released and gives its users the possibility to streamline their business even further. The release contains some promising new features and enhancements. As dedicated Oracle and NetSuite partner, Profource analyses these releases beforehand and makes a useful summary for NetSuite clients. What are the biggest changes and how can you use them to your advantage? Check out our top five and other information about the release schedule to find out!
NetSuite 2021.1 Release: What is our top five of new functionalities?
1. Advanced Numbering
With this new functionality added in the release, customers are able to set-up flexible document and transaction numbering. This makes it possible to use multiple complex numbering sequences that use different prefixes and suffixes based on the rules you set up. In the current release NetSuite is able to set up auto-generated numbering for a record type, which generates ID's for all created records of that specific type. In the new feature you can set up a collection of rules for one transaction type, which can be grouped in a 'rule set'. These rules or rule sets can be set in a specific order, which will decide the numbering on created records. It's even possible to create a default rule, to use when no other rules apply. To give an example: you create two rule sets, each one set to a specific fiscal year. The system will now update your document or transaction number sequence when a new fiscal year begins, instead of continuing on the original sequence. When exporting or reporting on data, the difference in sequence will now give a better overview of the dates of the transactions.
Enable this feature today via Setup > Company > Setup Tasks > Enable Features. In the Company subtab, scroll to the ERP General subsection and check the Advanced Numbering box.

2. Supply Allocation Enhancements
The second highlighted feature introduces multiple supply allocation enhancements. A few examples of these enhancements are:
Order Management Dashboard
With the new order management dashboard, release 2021.1 offers a single work space where you can find orders that require immediate attention and provides direct access to the allocation management tools that you can use to address those orders.
Predicted Risk Vendor Delivery Performance
After enabling this feature, NetSuite automatically performs a vendor performance analysis based on the transaction history of the vendor. The system automatically calculates the predicted risk of early or late delivery for each vendor, after which the results are stored on the vendor record.
Reallocation Recommendations
As of this release, transfer orders can now receive reallocation recommendations. When transfer order lines have no allocation or late allocation the system displays a Reallocate link to the Reallocate Order Item page. NetSuite is able to give recommendations to reallocate supplies from other orders, if you accept a recommendation the order is no longer considered late.
Allocating orders by Channels
The last enhancement we would like to point out is the option to allocate and group sales orders by channel, as well as reserving inventory in advance of a sales order to prevent over- or underselling by channels. SuiteFlow can be used to create approval flows for these order reservations.
These enhancements in this process can increase the insight employees have in the process, especially when a big part of your work focuses on Order Management. The features can be found under Setup > Company > Enable Features > Items & Inventory > Inventory > Supply Allocation.
3. Auto-matching SuiteApp
A lot of NetSuite clients use the GL Matching SuiteApp to match corresponding transactions and close all open entries. In addition to this SuiteApp, the new NetSuite release will come with a BETA version of a new Auto-Matching tool in which all transactions concerning Accounts Payables and Receivables can be automatically matched. This automation will run in the background every 15 minutes which reduces the amount of manual work needed to finish the reconciliation by a lot. This bundle will therefore be a huge improvement to companies using this SuiteApp. After the release is installed, this BETA bundle can be requested by sending an email to NetSuite, but after BETA all accounts using the GL Matching SuiteApp will be updated.
4. Centralized Purchasing and Billing
If your company uses a OneWorld account, this feature will appear in the system under Enable Features > Items & Expenses after the upgrade to the new release. It provides a new option to centralize the purchasing process of all subsidiaries to one specific location. From here users are able to create Purchase Orders, Vendor Bills and Vendor payments for other locations, while the receipt of the orders can still be done at each subsidiary. Automatically, this feature creates the corresponding cross-charges so there's no need for extra work on Intercompany accounting. This simplification of the purchase flow will save time and increase the productivity of your organisation.
5. Other upcoming changes
NetSuite has currently only released the first version of the Release Notes, we're expecting new versions to arrive soon. Via information of NetSuite we've encountered the mentioning of some more features, which haven't been explained in the Release Notes so far. Be sure to keep an eye out on newer versions or check out our website to find out about the following improvements:
SuiteProjects
With more and more companies using the project module, NetSuite decided to extend on the possibilities and debut 'SuiteProjects' in the new release. This combines the capabilities in project management, resource management, project budgeting and project accounting, aimed at supporting service businesses. Enhancements to the current module contain a retract' button on timesheets, giving employees the chance to change their timesheets before resubmitting, and more options on expense report policies to set limits for each project expense line.
Expense Commitment & Budget Validation
This feature looks very promising, since it's functionality prevents overspending a budget by validating purchase orders against entered budgets. A useful tool for all NetSuite clients, but since it's hasn't been mentioned in the Release Notes nor added to the Release Preview we'll have to wait a bit longer to test this functionality completely.
SuiteApprovals email Approval
An addition to this already existing SuiteApp is the possibility to review, approve or reject transactions via emails, leading to a quicker approval flow. If you already use this SuiteApp, make sure to get the latest version to ensure you get these advantages as well.
Release Schedule
Timing releases NetSuite 2021.1
As mentioned before, the newest NetSuite ERP software rollout started this month and will continue until April 2021. This means the exact rollout to the new release can differ between companies. NetSuite will provide the exact upgrade date and time, three weeks prior to the upgrade. By setting up the New Release portlet on your Home dashboard, you'll get the latest news concerning your update!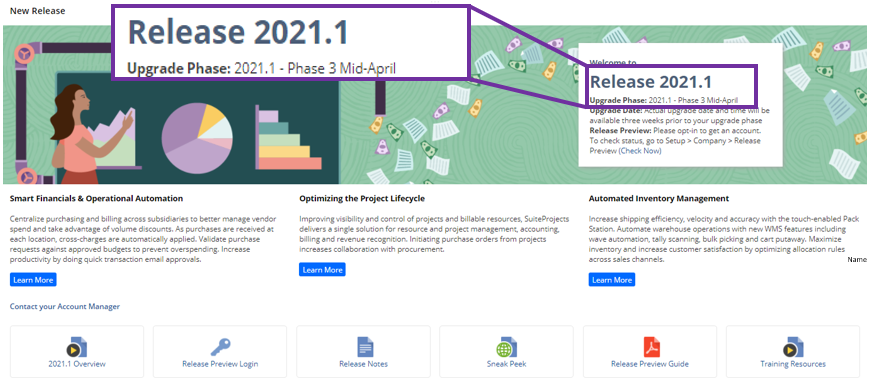 Release Preview
If you want to get familiar with these new features or want to test out if these are functional features for your company, you can use the Release Preview environment of NetSuite. Each employee with an 'Administrator' could apply for this preview, by logging in the system and going to Setup > Company > Release Preview > Request Release Preview.
Want to know more?
If you could use more information on these or other NetSuite features, Profource is ready to help. Feel free to reach out to get in touch with one of our certified NetSuite consultants to discuss your current set up, the latest release or an upcoming implementation.