From Taleo to Oracle Recruiting Cloud: Keep Moving Forward!
Oracle Recruiting Cloud (ORC) is the new recruiting module delivered to the Oracle HCM Cloud platform. It's  available since release 13 (18B update) for Oracle HCM Cloud (2018) and continues to be enhanced with each quarterly release update.
Many customers that are now using Oracle Talent Acquisition Cloud (OTAC), also known as Taleo, are faced with the decision to make or delay the transition from Taleo to ORC. What are the considerations, and when is the right time to make the transition?  Profource has the experience to guide customers through this process:

Considerations for transition Taleo to Oracle Recruiting Cloud
Oracle has stated that it will not be sunsetting Taleo in the near future. Taleo stays available as a standalone tool, and will continue to be supported by Oracle. That means that the right time for transition fully depends on when your company is ready.
Firstly, determine if there is a match between your current processes and ORC processes.
Also take into consideration the ORC roadmap and evaluate the features offered by ORC today.
This also includes ananalysis about the differences in the basic processes in ORC (examples: the online job offer using an RTF template, or the fact that a candidate needs to confirm the job application via email after applying).
Is your company willing to work the ORC way?
Also, take the transition process in consideration. The transition from Taleo to ORC is something that is not supported by Oracle directly.
Conversion of candidate data needs to be done by customers themselves, or by an Oracle partner like Profource!
Taleo versus ORC, what are the key differences?
Implementation ORC @Profource
Profource is one of the first users of ORC in the Benelux region. With this deployment we will not only improve our own internal business processes, but we also gained the experience and insights that are necessary to guide our customers during their implementation process. Here are some examples of our findings:
Application Process in Oracle Recruitment Cloud
With Profource being a relatively small organization (200-250 employees), our recruitment process is fairly straightforward. We want to have a Candidate Journey that's as short as possible, primarily in the Job Application process and also in our internal processes.
In our Taleo system, we have a custom web form in our own website. This information gets pushed into Taleo using REST API. Since ORC does not support REST API as of Release 19B, we were required to use the Application Flow in ORC. There are blocks available to set up the flow:

In Taleo it is possible to customize each individual field in these blocks, but this is not possible in ORC as of Release 19B. For Profource, the fields 'Title' and 'Middle name' were not basic requirements, and the other way around we missed a couple of fields, like 'Hometown'. We have chosen to use the Questionnaires to collect non-standard candidate information.
Without REST API capabilities, Profource also needs to use the Oracle Career Site for candidates to apply. The HTML and CSS capabilities of the ORC editor made it possible to fully customize the Oracle Career Site to our needs: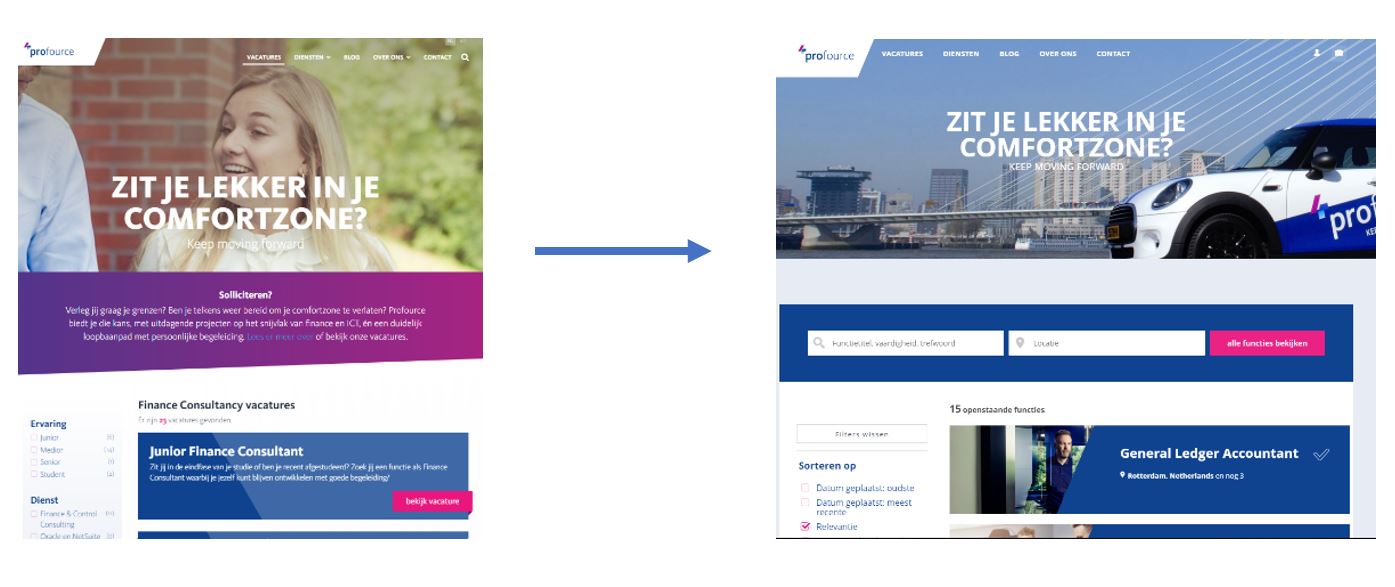 Is Oracle Recuiting Cloud the right tool for your organisation?
For Profource, the pros (Candidate Journey, integrated in HCM Cloud, mobile responsiveness) far outweighs the cons (not all features are ready yet, customization is difficult), so we feel comfortable that ORC can support our business in the current release. We will keep a close eye on the coming releases, and are excited to watch ORC grow into a more mature product.
Profource can help you in discovering whether ORC is the right tool for your business, and when it is the right moment to make the transition. We can't wait to drop by!
Learn more?
If after reading this case you are interested in receiving further information, please post your question on our contact page, or call us on +31 (0)88 77 636 00, directly. We look forward to hearing from you.